From the 80's wallpaper to the new millennium, a painted feature wall now becomes a wallplanks wall. This is a line of wood plank wall covering that covers a wide range of Décor. From Modern to Rustic we will have everything in between. This line is also a DIY product that makes it economical for any size project. When you're trying to figure places to create a focal point in a bedroom you can put a wallplanks design behind the bed and have everyone staring in astonishment.
Wallplanks can also help add warmth to a sun room, and transform a mud room into a space with definition and purpose. Wallplanks can even work perfectly for a feature wall at the end of a hallway and be considered its own art wall. When you think of wallplanks the ideas are endless, they can be in nurserys, bathrooms, offices, mancaves, you name it and they can be there. If you're thinking about having a wallplanks experience call your friends at Hart Floor Co. and we can help you.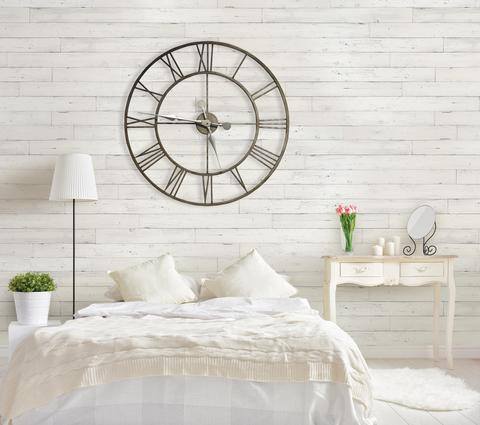 Wallplank installation is pretty simple. The first step is to clean and dry the wall. This can be done with a sponge and a bowl of water. Next you want to remove the cover plates. After that is complete you will establish starting lines. Make sure to tack along your horizontal line. Next, you peel the paper off of the back of the wallplank and position the plank along your line. You will continue this process and press the wallplanks into palce. Next, you will mark the wallplank on the vertical line. From here you will cut you wallplank on both sides and after the plank is cut you can snap off the remaining plank. Make sure to smooth the edges with a sanding block. When cutting the plank make sure they are cut to fit around outlets. Mark the cut lines for the outlets, and drill starter hole for cutting to make the job easier. Make sure to cut along your lines, line up your plank and press. For the wood trim feel free to tack it in. Finish by using a J-Roller and lastly enjoy your new wall.
Located in Central Wisconsin, Wallplanks is proud to be a US company that sources all it's material from North America. Wallplanks will be free from manufacturing defects for a period of 25 years from the date of original purchase. Manufacturing defects are improper milling, delaminating, or assembly. In order to obtain the warranty you have to purchase from authorized dealers.