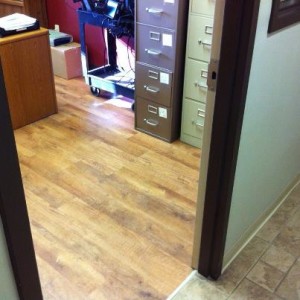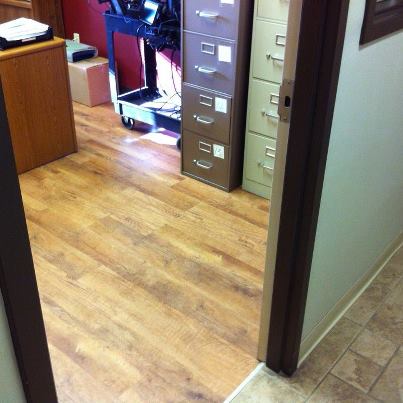 Example project photo to the left.  A big thank you to Todd Jensen Construction and Cache Employment Technology Center for your business.
Have you been considering installing a hardwood floor?  As your Logan, UT hardwood floor company, may we suggest you consider an incredible product called Luxury Vinyl Planking?  This type of flooring looks great and lasts for a very long time.  The best part though is that you can have the hardwood floor look in places you wouldn't necessarily want to have "hard wood".
Having a hardwood floor is beautiful in just about any area.  Unfortunately, when you have hardwood in places where you may have a lot of moisture, the wood can become moldy, bubble up, or get other types of water damage when water is present.  The advantage of Luxury Vinyl Planking is that it looks like hardwood, but water won't harm it.  This means you can have the "hardwood floor" look in your bathroom or laundry area without worrying about water damage.
The Luxury Vinyl Planking system is also great for any other room too just because it looks so much like hardwood and lasts for so long.  This allows you to enjoy a hardwood looking floor in your living room, bedroom, kitchen, or wherever you want the hard floor to be without worry for a very long time.
This type of system is also available in many colors from Redwood to Cedar, to Oak, and more. If you are thinking about getting a new hardwood floor, we would suggest you also consider Luxury Vinyl Planking.
If you decide you would rather stick to an all wood product for your floor, we can help you with that as well.  We just want you to know your options and as always, when you are looking for the best floor store Logan, UT has to offer, we are all you need to know.